FlightOps and AirborneRF have announced a joint partnership that enables drone operators to access dynamic population density and communication coverage maps using the FlightOps operating system to dramatically increase safety. The partnership aims to address some of the key challenges drone operators currently face, including automating the approval process for aerial operations and providing faster, real-time data updates from existing telecommunications infrastructure.
FlightOps is one of the most advanced drone operating system in the industry, offering a revolutionary cloud service that enables drone service providers to overcome traditional barriers associated with scaling airborne Beyond Visual Line of Sight (BVLOS) drone operations by automating the entire flight process, replacing the role of the human pilot .
Founded in 2020 by a team of UAV technologists and experts to address this coming wave of demand. FlightOps already partnered with major industry players such as DroneUp and Qualcomm. By integrating their cutting-edge flight automation technology with real-time, multi-dimensional data feeds like population density and communication coverage, they revolutionize drone operations. This innovative approach lowers the expenses tied to skilled pilots while enabling the safe execution of hundreds of daily missions.. Over the past years, FlightOps participated in groundbreaking global drone initiatives and pioneered BVLOS regulations on the international stage.
How AirborneRF's connectivity data will reshape automated drone operating systems
AirborneRF's connectivity data platform for BVLOS drone operations in cellular networks expands the FlightOps drone operating system with dynamic information on airborne connectivity and population density data for ground risk considerations. Such data can unlock regulatory approvals for automated long distance drone services in industries such as agriculture, transportation, insurance, telecommunications, and others. These commercial services are expected to grow exponentially and provide great opportunities for network operators in the future.
However, none of this would be possible without an operating system to automate this data into actionable decisions for the operator. That is why the AirborneRF software processes the dynamic information needed for safe 3D airspace communication and for ground risk assessment and delivers this data to the FlightOps system to enable BVLOS services at scale.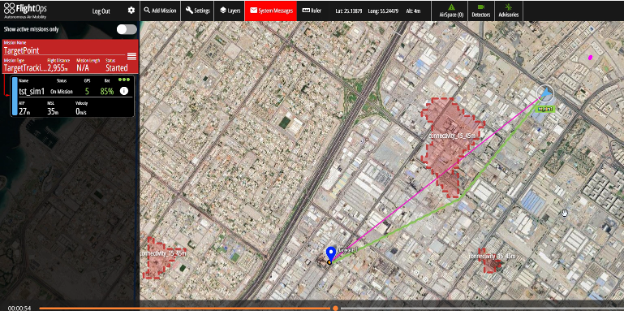 When asked about the partnership, Shay Levy, the Founder and CEO of FlightOps, said,
"By launching this capability integrated within FlightOps that allows us to use maps of population density and communication coverage in our fully automated process, dramatically enhancing safety and reducing ground risk."
However, the integration goes beyond just operational advantages. It signifies a larger trend of technological convergence. In a world where industries are rapidly evolving, the blend of FlightOps' drone operating system with AirborneRF's connectivity and ground risk data also stands as a testament to the power of inter-industry collaboration and how this can transform drones into an end-to-end aerial IoT solution.
Thomas Wana, Co-founder and CTO of AirborneRF said,
"Looking ahead, it's clear that the partnership between FlightOps and AirborneRF is more than just a business partnership; it's a blueprint for the future of drone operations. As technology continues to evolve, such collaborative efforts between industries will define the future of the drone ecosystem, leading to more integrated, efficient, and safe drone operations in various sectors worldwide."
About Dimetor
Dimetor is a software company bridging the data gap between communications service providers (CSPs) and the aviation ecosystems. Through its world-leading platform AirborneRF, they help provide supplementary data that is critical for safe BVLOS drone operations. AirborneRF focuses on (a) the 3D corridors in space that have sufficiently good connectivity for drone operations (e.g. for networked remote ID, command and control, payload communication) and (b) the population density for ground risk assessment based on anonymized cellular mobility data. Developed by experts in mobile communication networks, aviation and drone technology, AirborneRF also provides live notifications from the CSP networks in case of any issue during flight operation. Dimetor's software has been deployed worldwide, including Australia, Europe and North America.
Visit www.dimetor.com and www.airborneRF.com for more information.
About FlightOps
FlightOps is a leading provider of innovative flight automation software tools that revolutionize the way humanity uses drones. Known as the "Android OS" of the drone market, FlightOps facilitates the use of multiple drones, BVLOS operations, U-space/UTM integration, and drone-in-a-box technology. FlightOps unique technology converts human pilot knowledge into software services and AI that runs on cloud and onboard the aircraft, creating highly autonomous "robot-pilots" that eliminate the dependency on human operators and communication stability. FlightOps is committed to helping businesses dramatically scale their operations, reduce costs, simplify compliance, and boost safety.
As a real-life operational system at scale, among many other customers, FlightOps powers DroneUp's drone delivery service for Walmart, accumulating hundreds of flight hours per month. In addition, its partnership with Qualcomm aims to provide automated drone operation systems to first responders, further cementing its position as a leader in the drone industry.