XPONENTIAL in Denver presented itself as an amazing opportunity to begin to understand where current revenue streams are for drone organisations during this year of very limited funding. As people began to share ideas, we got a few key examples of where companies are currently generating revenue that's fuelling them through 2023 and 2024.
The lack of funding for many drone organisations has hit just as unprecedented levels of connectivity are beginning to redefine our communities as technology becomes an ever-increasing aspect of our day-to-day lives. However, there is already a shift happening that many are unaware of: the beginning of Aerial IoT.
The Internet of Things (IoT) revolutionised our lives, bringing together standard pieces of technology — from automated pet feeders to weather updates on smart refrigerators — into a cohesive, interconnected and interoperable network from our phones. This was followed by the Industrial Internet of Things (IIoT), which represented a wave of innovation where manufacturers leveraged similar connectivity in machinery, enabling prediction of demand and downtime, boosting the overall productivity within the supply chain and providing the industry with a huge amount of funding once the use cases had been tested and proven successful.
The Aerial Internet of Things (Aerial IoT) will provide a similar level of connectivity, productivity and revenue, but through the use of interconnected uncrewed aerial vehicles (UAVs) flying in our skies. These UAVs will be used in many different use cases, from travel (think air taxis), food delivery, logistics, inspection, search and rescue, security and healthcare supply transportation, among many others.
If we take a step back from this innovative aerial future, we need to ask ourselves how these UAVs will integrate into airspaces.
To create dramatic changes like a sky full of drones within the next few decades, we'll need to utilise already existing infrastructure to meet the deadline. Thankfully, mobile connectivity has already proven itself to be perfect for enabling each one of the use cases listed above.
In this article, we'll explain how connectivity is already being used to enable drone operations to support first responders, inspections and delivery services.
First responders: the problem with reliable connectivity
'An integrated approach to using UAS for disaster response', which looked at how drones are now helping first responders in many areas beyond search and rescue, was one of the stand-out panels at Xponential. This also applies to blue-light services such as the police, fire brigade and ambulance services.
While drones have the ability to arrive at the crime scene at an average time of 3.27 minutes after the emergency call was made compared to the 17 minutes it took traditional first responders, there are still major connectivity issues when it comes to the actual implementation of drones for this use case.
The challenge comes when drones are sent to areas with poor or unreliable connectivity, which is similar to when cell phone connection goes out in certain areas. This, thankfully, can be solved with software that provides suggested routes and changes connectivity provides to make sure stable connectivity is always automatically available. The equivalent of this would be a software that allowed you to change internet providers each time the software predicted connectivity problems, so you never would have to experience them for yourself.
There is currently only one solution capable of providing this consistent connectivity during even the most extreme of scenarios, like during a fire, earthquake or flood: AirborneRF Hub. Through partnerships with some of the biggest telecommunication organisations in the world, AirborneRF is able to provide connectivity through multiple sources, even during these challenging conditions. AirborneRF allows the aggregation of individual data streams, providing actionable insights.
As connectivity increases, the potential for a global Aerial IoT for first responder drone operations is likely to increase as the cost of implementation is reduced through the increase of reliable infrastructure. The revenue generation is likely to mirror the global law enforcement drone market, which is anticipated to grow from 500 million U.S. dollars in 2020 to 2.8 billion U.S. dollars by 2030.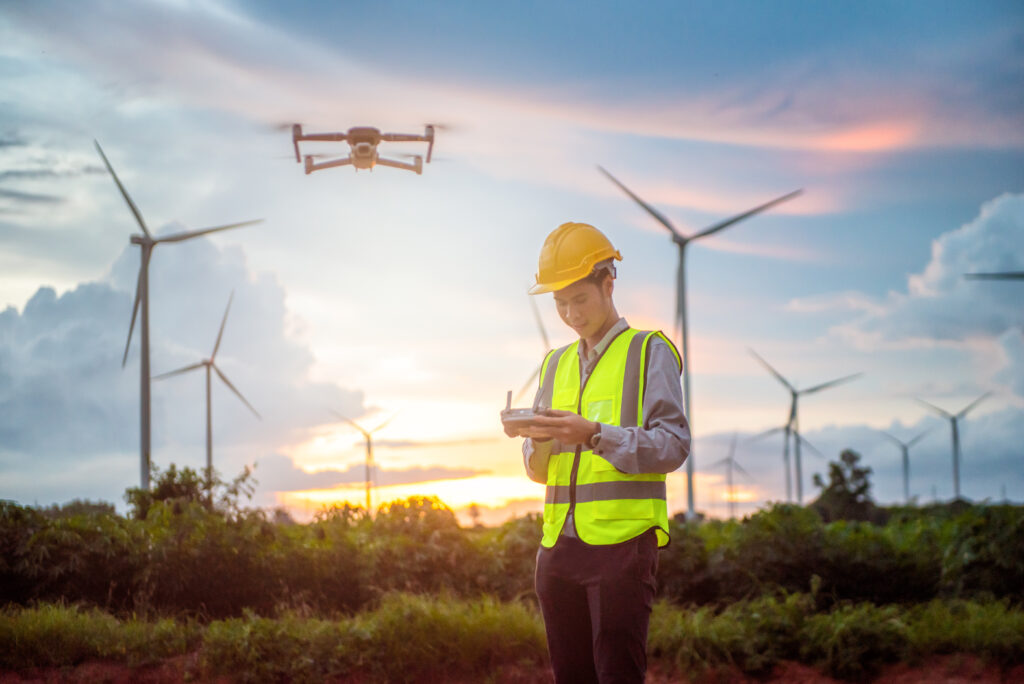 The silent revolution of infrastructure inspections
While critical infrastructure inspections have the most to gain from using drones, there is also an inherent cybersecurity risk, which was addressed in the panel, 'critical infrastructure security considerations when integrating UAS'.
During the panel, the Chief for Infrastructure Security within the Department of Homeland Security's Cybersecurity and Infrastructure Security Agency (CISA) spoke about how drone operations can be safely integrated and used.
Drone operations have the potential to support energy inspections, which are some of the biggest cost centres in the industry globally, which is likely why many energy organisations have been quick to adopt drone-based inspections, even during the early phases of the technology.
Just to show how incredibly expensive inspections are, you can imagine that an electricity company looking to inspect their power lines will need to use a helicopter and fly the inspection team over these power lines, which costs an estimated $1,200 to $1,500 per mile with an accuracy rate lower than that of an AI-powered drone. For Europeans, the costs are similar for these distances.
In comparison, the cost of a similar drone inspection is only $200 to $300, and these drones are able to fly faster while using significantly less fuel and human effort. In addition to these obvious benefits, people are able to stay safely on the ground unless a repair is needed, reducing unnecessary risk.
Telecommunication organisations like TELUS in Canada have already jumped on this opportunity and have even taken these inspections a step further, using drones to enable greener infrastructure inspections, which offers the cybersecurity infrastructure of our current mobile networks. That means these pathways have already been tried and tested for potential weaknesses, making them both the easiest to implement for commercial drone inspections as well as the most secure. 
In a recent press release, Samer Geissah, Director of Technology Strategy at TELUS, said:
"Dimetor's technology will enable exciting new opportunities to leverage the potential of 5G connected technologies like BVLOS drones for critical new uses, such as remote fire detection, evaluating flood areas and endless other possibilities. Working with Dimetor is allowing TELUS to explore how we can leverage drone technology to advance our social purpose of helping to make our planet greener and more sustainable. This work alongside Transport Canada, NAV Canada and Airborne RF from Dimetor will enable better services for our customers and faster and more efficient responses to keep our planet healthy."
As the Aerial IoT grows, this use case might be one of the main keys to unlocking the future expansion of the required infrastructure for future inspections or helping countries like the United States map where their repair needs are the greatest, as the country faces an extreme infrastructure report card rating of C-.
The revenue potential for drone inspections was valued at USD 9.20 billion in 2021, and it's expected to continue growing exponentially as regulatory frameworks become more favourable and innovative players show others how to begin implementing operations.
Urban air delivery is already ready to launch
Everyone is still talking about how drone delivery could be the biggest and most profitable use case in the industry, which was also the topic of the panel 'Moving goods: how close are we to a logistics and delivery revolution'.
As it turns out, drone delivery is also picking up speed quickly in both the consumer market and the healthcare industry, which benefits immensely from this innovation. In early 2022 alone, over 2,000 [tt1] drone deliveries globally were being made daily, according to McKinsey, and this number is expected to increase exponentially in the upcoming years.
Given the undeniable advantage of UAVs over conventional delivery transport methods such as cars, mopeds, and bikes, it's only logical that this use case becomes a driving force to unlock the vast potential of the future Aerial IoT. In addition, the significantly reduced CO2 emissions from drones combine eco-friendly delivery practices with improved logistics processes, which not only accelerates the transition towards greener logistics but also enhances overall delivery speed and cost-efficiency.
One of the major challenges, however, is being able to get enough ground data to understand the potential risk of these operations in areas with high population densities. In urban areas, there is an inherently higher risk associated with drone operations due to the number of people on the ground, the critical infrastructure and more difficult navigation requirements.
The only viable solution to this, again, is connectivity, as traditional radars are too limited in these urban areas. Using telecommunications connectivity is also much easier than building a new network reserved for drone operations, as it would only mean additional effort spent in the hope of creating something equivalent to existing infrastructure.
A practical implementation would be with Vodafone's new DroNet solution, which allows drones to use their network and connectivity. Thomas Neubauer, CEO and co-founder of the software used in DroNet, Dimetor, explained,
"Safety is the top priority in aviation. To meet this demand, drone management systems need precise, up-to-date and meaningful data — both in terms of connectivity in the airspace and for assessing the ground risk. Mobile networks have this information at their disposal and thus can make a significant contribution to the safety, plannability and risk minimisation of drone flights".
These is currently the strongest use cases for the drone industry as it solves many of the existing logistics and supply chain challenges. That's most likely why the drone package delivery market is projected to grow from USD 228 million in 2022 to USD 5,556 million by 2030.
Limitless potential for the future Aerial IoT
As we look towards the horizon, the potential for the Aerial Internet of Things (Aerial IoT) is virtually boundless. As we've explained above, the key to unlocking this new age of technological innovation in our airspace is to push for the use cases that have the most to benefit from the future of aerial cities. Still, this means building on already existing infrastructure by creating software that allows drones to integrate and utilise existing telecommunications structures.
With reliable and robust connectivity, we can expect to see a dramatic transformation in the way our society functions. The impact of these innovative technologies on first-response scenarios, industrial inspections and urban delivery services is just the beginning. Future applications may extend to areas we have yet to fully conceptualise, from advanced environmental monitoring to a network of urban air taxis, among others.
The transition to a greener, more efficient world, where services are delivered with unprecedented speed and accuracy, will happen in our lifetimes. With advances in UAV technology and mobile connectivity, the sky is no longer the limit. Instead, it becomes a network of endless possibilities, a testament to human ingenuity and the power of our interconnected communities.
By embracing the Aerial IOT and harnessing the power of connectivity, we can redefine the way we live, work and interact with the world around us. It is a journey of discovery and innovation that promises to take us to new heights.
As we continue to push the boundaries of what is possible, the potential for the future Aerial IOT becomes not just a distant dream but tomorrow's reality.